NHguy03276 wrote:
Yeah, every time I crack open a flask, I get nervous. The actual time to do the replate of 4 stems took less than 10 minutes, but it was almost 1 hr of prep time, wiping surfaces down, making sure flasks were wiped, and then rewiped, etc. etc. anything to reduce the risk of contamination...
Yeah, welcome to lab work. People think it is fun and easy. Many people have wanted me to do some for them in the past. I just can't. The actual bit in the hood doing the actual work
IS
fun and easy. However, as you say, it takes hours of time making flasks and then the prep time to get everything cleaned. For every 2 hour session in the hood doing the actual lab work, I probably spend 4 or more hours outside the hood making flasks and cleaning.
NHguy03276 wrote:
The reason I have been replating is I was given a warning from someone who has a bit more experience than I do that phenolic exudate buildup would inhibit growth and possibly kill the plantlet. If this is not the case, I'll gladly leave them alone.
I'm not going to say this is completely untrue. My comment would be that in my experience it isn't a huge issue. I have cultures die all the time. I always feel I may have over sterilized. I could list several reasons I think they died (contamination not included). I am busy. I have a regular job. I sometimes don't get lab work done for years, that should have been months after started. And, the stem props are fine. Yours may do better than mine because you replated into fresh media. Mine are going to sit forever. Been doing this a long time now. I have a few pictures below.
NHguy03276 wrote:
Curiosity, how often do you find Stem Props failing. I've had a couple attempts fail after promising starts, and wondering if it is just my inexperience or if they just have a measurable fail rate...
Contamination aside, I usually have a few stems that just up and die with no obvious reason. I don't know if I sterilized them too much, there wasn't enough tissue to start with to sustain them, they were out of media too long and air got up into the tissue. I have no idea. Sometimes it's crushing how many just spontaneously die and sometimes it's only a couple. Sometimes they die within a few weeks, and I've had them up and die after 6 months of great growth.
Pictures Yay!
In this picture you can see that the tissue just died. No phenols to blame. It just died. Why? No idea
Here you can see there are lots of phenols and everything is doing fine. I also got 2 plants. If I had moved them to fresh media would they have done better or grown faster? Maybe/Probably But I'm lazy and busy. If I had time, I could go ahead, cut them apart, and move these into final media. Maybe this will get done in 2019... if they are lucky. This was done in July 2018 and I took this picture today for you, so they have been there 6 months. I'm not saying this is the right way or the best way or the most efficient. I'm offering perspective on moving stuff multiple times and the affects of phenols etc etc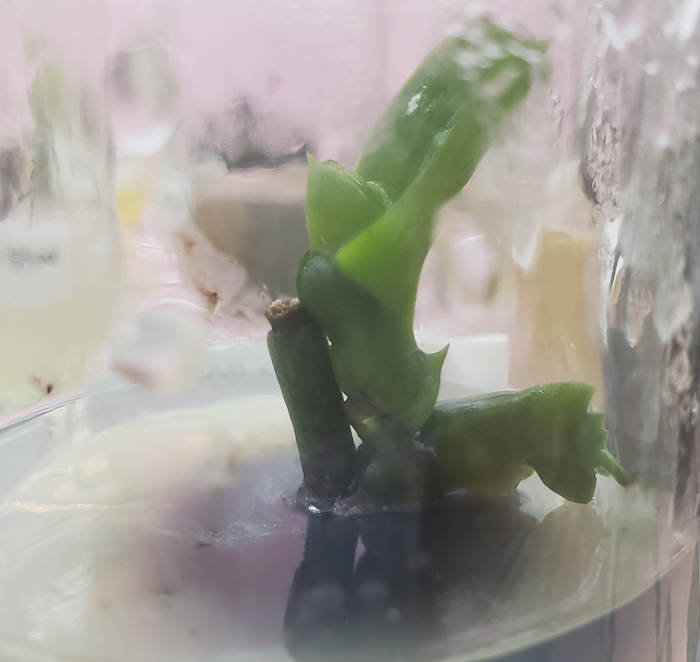 Here are some old pictures I had. Both are of stem props. Lots of plants. Lots of phenols on the left. Not so much on the right. Everything looks good. I should have cut these apart months before this pictures was taken. I'm sure I was behind like always. They do better the larger they are anyway. Note that despite the size of the plants, there are no roots. Also back to something I mentioned yesterday, if you start getting multiple plants, those tubes aren't going to work. These are baby food jars.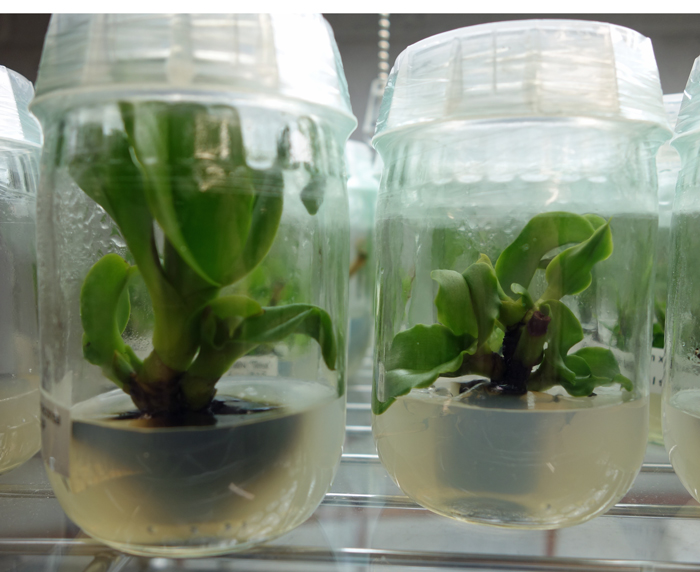 More stem props. You can cut these apart at this size. It can be tricky though. If you accidentally butcher it, you can plant the nubs and often they will do fine anyway. A couple things about this one. It is rare that I get this many plants. Yes, you can push it with more hormones, but you always increase your risk of mutation. I usually get 2-5. Secondly when you cut the large babies off, you often find that you have a knot of tissue underneath that is still green and has a few tiny bumps on it. Those are potentially plants that grow into more plants. In that case, I take the knot of tissue left and put it onto final media. Sometimes a year later, after already once harvesting all the plants on it, you get something similar to the picture below. One culture yields 2 crops of stems. This sounds awesome but from a business point of view, the Phal orchid world is a small place. You often don't have buyers for 30 plants of the same cultivar.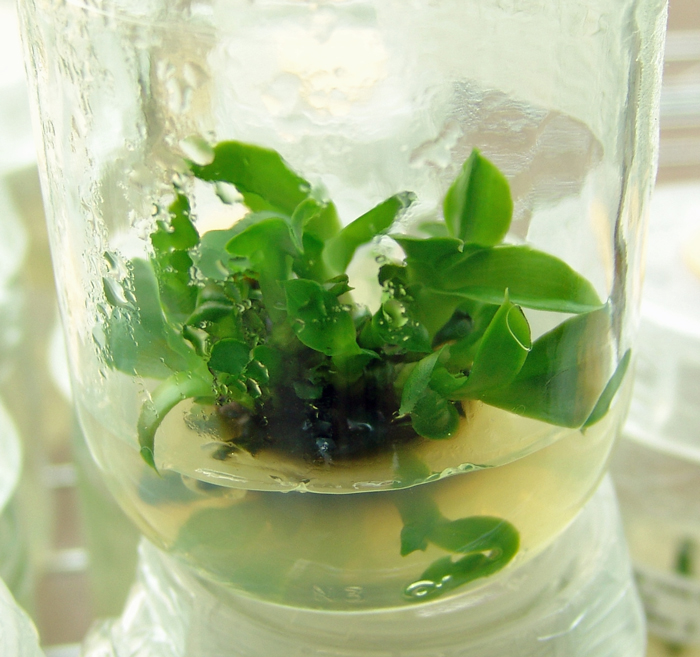 This picture is a little different. This is actually a stem prop before I cut everything apart. What had happened is that it was growing multiples like one of the ones above, but it was not growing well. Maybe from phenols. It was too small or the baby plants too dense to cut apart without butchering it. So I moved it to final media where everything could continue to grow. I can cut them apart now without killing everything. Ironically they are harder to cut apart at this stage. Roots are going everywhere and they are hard to avoid. Plants are bigger and it is harder to get my blade between them. However, even if I slice up a few things, the plants are big and they recover in no time. These will be cut apart and placed individually into final media to grow out. I don't worry about slicing roots. I try to avoid it, but not a big issue.